Pourquoi les tablettes industrielles sont les nouveaux appareils indispensables du secteur manufacturier.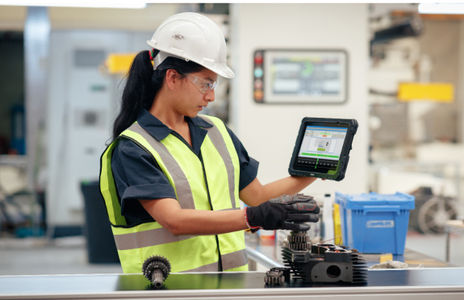 Mobile computers are nothing new in many manufacturing businesses, but they've often been confined to the warehouse to help with inventory management and logistics workflows. To manage plant operations and monitor production and performance, many manufacturers still rely on desktop PCs and laptops.
But that has been changing in recent years as industrial tablets have emerged as a highly effective and increasingly popular way to mobilize many manufacturing workflows and tasks.
Instead of being tethered to desktop PCs in offices or workstations, and instead of having to carry around cumbersome laptops, industrial tablets provide an extremely rugged yet lightweight and high-powered solution for accessing manufacturing systems and software applications wherever they're needed.
For example, you can connect and integrate tablets with your business systems, manufacturing execution system, your ERP, or even with production machines and sensors. This allows managers and plant workers to access real-time information as well as mobile tools to help them complete and streamline every task with digital efficiency.
Managers can monitor production and output, get visibility into inventory and key processes, and manage schedules and worker performance. Operators can use tablets to monitor machine output and performance, interface with machines, get alerts when there are issues, and quickly diagnose and address problems before they interrupt production and cause downtime. Maintenance staff can access maintenance records, work instructions, and use mobile tools to help document and perform regular calibration and maintenance of critical production equipment. And they can receive mobile alerts whenever there's a potential maintenance issue that needs to be addressed.
In the warehouse, managers and staff can use industrial tablets to scan and manage inventory rather than use a barcode scanner or traditional handheld mobile computer. With tablets, they have the extra screen space to view and manage more data and information at their fingertips, and reduce the number of screens and steps required to complete warehouse tasks and workflows.
Ultimately, tablets have many potential applications in any manufacturing environment, but there are a few common benefits you can get from these devices in every area.
Computing Power, Memory and Performance
One is that industrial, enterprise-grade tablets have processing power, memory, and battery life that you won't get from a typical handheld mobile computer. For example, Zebra, one of the world's leading producers of industrial tablets for manufacturing, has a complete portfolio of tablet solutions that offer either a Windows or Android user experience with the latest 8th-generation Intel multi-core processors, up to 16GB or more of RAM, and hot-swappable long-life batteries that can deliver up to 27 hours of continuous power.
Larger Screens and Incredible Durability
Zebra's industrial tablets also offer screen sizes up to 12 inches, allowing you to display far more data and information in a device that's still remarkably compact and lightweight.
But there's no sacrifice in durability since Zebra's tablets are also built to military-grade drop and durability specifications.
Zebra L10 Rugged Tablet
In fact, its L10 Series tablets have a magnesium frame that's harder than steel and lighter than aluminum, and they feature Corning Gorilla Glass displays for shatter and damage resistance.
L10 Series tablets also have IP65 rated dust-proof and waterproof sealing, and they're C1D2 certified for use in hazardous environments where other devices may pose a spark risk.
Enterprise-Grade Security
Industrial tablets also offer a level of security that you won't find in most other mobile devices, with options for fingerprint readers, smart card/CAC readers, multi-factor biometric authentication, and even removable solid state drives for the highest security.
Connectivity with Virtually Anything
In addition to integrating with business systems and apps, industrial tablets can connect to virtually anything through a variety of protocols, including Wi-Fi 6E and 5G or 4G, Bluetooth, GPS, WLAN, WWAN, USB 3.0, USB-C, and much more.
Multiple Form Factors
Industrial tablets also offer many flexible advantages in form factor, ergonomics, and usability. For example Zebra's new ET80/ET85 rugged 2-in-1 tablets are dockable in an office or at a workstation
Zebra ET80/ET85 Tablets
and have a friction-hinge keyboard, so they can serve as both a tablet and a desktop or laptop replacement. They're also 35% thinner and 20% lighter than other 2-in-1 devices, and they can be docked and undocked in seconds, so they're easy to take with you wherever you need to go.
Zebra also has L10 XPAD hard-handle tablets with an optional barcode reader that can be easily carried with a convenient and heavy-duty handle, and select models can also be mounted, docked and used in forklifts, trucks and other vehicles with Zebra's complete mounting accessories.
Barcode Reading and Data Capture
Industrial tablets aren't just mobile computers. They're also barcode scanners with models that include built-in scanners and others that provide an option to add a scanner depending on your needs. The big advantage of these devices over consumer-grade tablets and many smartphones and other devices is that they have true barcode scanners, with advanced algorithms and decoding to capture barcodes fast and reliably in virtually any condition, even if barcodes are dirty, scratched, smudged or poorly printed.
Ultimately, these capabilities and the many potential applications are what set Zebra industrial tablets apart from other devices and are driving a huge surge in their popularity in the manufacturing industry.
If you haven't considered using tablets in your operations, now is the time to start thinking about it, especially if you haven't mobilized many of your production workflows or are looking for a more powerful, convenient, and flexible way to connect with your machines and business systems and get work done on the plant floor.
To learn more about potential use cases, recommended tablet solutions, and how you can potentially use tablet technology in your operations, connect with our team . We'll be happy to set up a discovery call to give you a personalized overview and answer all your questions.