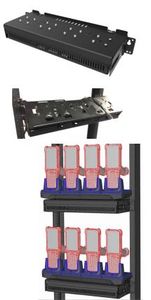 Allows for rack and wall mounting of one MC9300 4-Slot ShareCradle.
Bracket can be mounted on standard 19\" network rack or on a wall.
Has cable routing slots and removable power supply tray that stores and conceals power supplies. Adjustable tabs & screw mounts for easy hanging/installation. Adjustable orientations: - 25° High Density (5-Slot Charge Only Cradle)- Horizontal (Single Slot Cradle or 4-Slot Battery Chargers).
Part number : (BRKT-SCRD-SMRK-01)