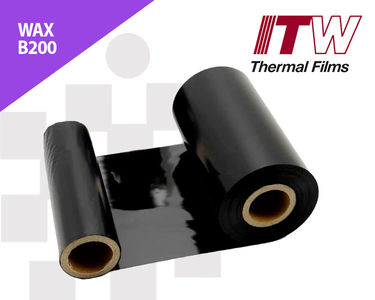 The ITW B200 Thermal Wax Ribbon is a versatile barcode printing ribbon that performs great on a wide range of media. An economical solution for most general purpose applications, the B200 Wax Ribbon contains high quality inks, operates at low print energy, extends the life of your printer's printhead and produces codes at High quality, crisp and clear bars and images.
B200 thermal ribbon made with wax is the most common type of thermal transfer ribbon. Due to their durability, all-wax thermal ribbons are typically used on coated and uncoated paper. It is the cheapest and is the optimal choice for short-term use.
The B200 wax thermal ribbon can meet your thermal transfer printing needs where moderate durability is required. Since these ribbons require the lowest print energy (lower fusing temperature), the ink transfers easily to the label.
However, when an application requires increased durability and resistance to chemicals and environmental factors, we primarily recommend wax/resin or resin ribbons.