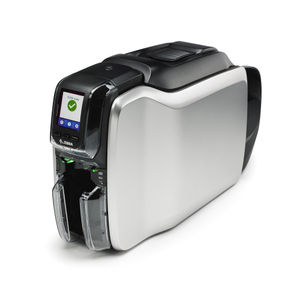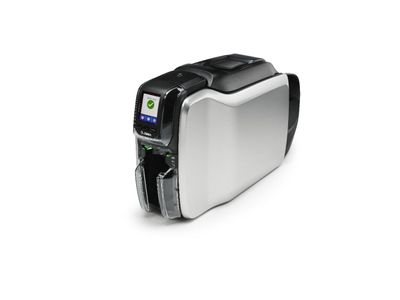 Technocode preents the Zebra ZC320 badge printer , a badge printer that is so advanced in badge printing giving the umtimate solution to print badges for all kinds of accoasions and application.
Flexible card design and easy badge printing
With the ZC320, you can print single or dual-sided monochrome and color cards. No matter what you are printing, with advanced features, you can print dual-sided color cards with complex artwork very easily.
new ingenious card feeder handles varying card thickness efficiently
The card feeder in the zebra zc320 badge printer instantly adjusts to the thickness of each card — no more adjusting for different card stocks.
Groundbreaking new driver with a graphical user interface
The intuitive interface in the newly-designed driver makes it easier than ever to print cards. Settings are grouped logically into tabs where they are easily accessible with a click.
Fool-proof ribbon changing
Changing a ribbon has never been so simple and uncomplicated — no instructions required. The newly designed ribbon door latch unlocks and opens in one motion.
Highly graphical LED/LCD interface
The ZC320 badge printer offers highly-intuitive well-tested icons, animations and text-based messages in your own language, allowing any user to easily understand what the printer needs and how to perform virtually any function — including how to clear a printer jam, fix a ribbon, load a ribbon or cards and more.
note that we also provide authentic consumables which necessary to keep your equipment in perfect condition , here's the ribbon for the zc300 badge printer .