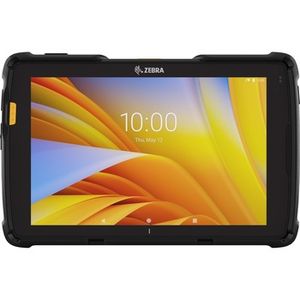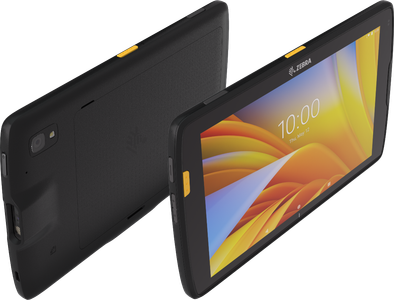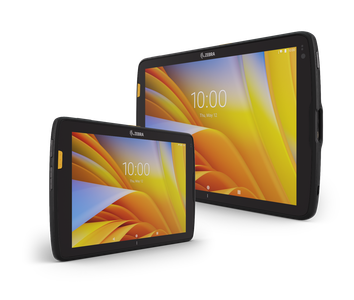 Introducing the ET40 and ET45 rugged tablets, the reasonably priced business tablets designed for business Start with the right screen size: 8-inch or 10-inch models are easy to carry and can display plenty of information. And each model offers all the necessary features, natively. Sturdy professional tool with slim and lightweight consumer-grade design. Integrated professional scanner. Fastest wireless connections. Multi-year life cycle. Innovative and powerful communication options. Optimize the lifecycle of tablets anywhere, at no cost, with free Mobility DNA Professional tools, exclusive to Zebra. Increase the productivity of your employees by facilitating data capture using the optional Mobility DNA Enterprise toolset.
Choose your screen size
Choose the screen size that's right for the job—a compact, easy-to-carry 8-inch display or a larger 10-inch display for easier viewing of information-rich applications.
Rugged and ready to work all day
The ET40 and ET45 are built for inside business, delivering reliable operation you can count on. Place it on tile or concrete floors. Use it indoors and outdoors, even in the heat or sub-zero temperatures.
Fastest wireless connectivity to stay connected anywhere
Get the fastest Wi-Fi and cellular speeds with Wi-Fi 6 and 5G. The ET40 Wi-Fi only is ideal indoors in retail and hospitality, while the ET45 Wi-Fi and Cellular is ideal for delivery drivers and more in the field. Connect wireless headsets, printers and more with Bluetooth to create a complete wireless solution.
Multi-shift battery power
Power options keep your tablets running through multiple shifts, while Zebra's PowerPrecision batteries provide the intelligence to better manage your battery pool.
World-class integrated scanning
No matter what type of scanning your employees perform, there's a Zebra scan engine to fit the job - from standard range scanning to a large "sweet spot" for reliable point-and-shoot simplicity or a scanner forward reach to capture items in hand and through the chamber.