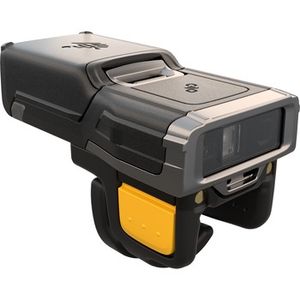 Introducing Zebra's most powerful and versatile wearable scanner — the RS6100. This small and practically weightless wearable scanner offers an advanced multi-focus scan engine in a rugged design you can use anywhere — from warehouse aisles, freezers, and coolers to the seat of a fork truck or out on the dock in rain, snow, blazing summer heat and subzero winter cold.
Just over two ounces and two cubic inches, this small and practically weightless wearable scanner is less than half the size and weight of its predecessor, the RS6000 – an excellent migration offering.
Paired with the integrated SE55 1D/2D Advanced Range scan engine with IntellifocusTM technology provides extraordinary scanning range that is more than double the range of the RS6000, enabling just about any use case with the ability to capture barcodes in hand and on the top shelf of a rack — from 2 in./5.08 cm to 40 ft./12.2 m.
Wirelessly pair with any Bluetooth-enabled Zebra enterprise-class mobile device or any Bluetooth smartphone, tablet, or PC — and with Zebra's Wi-Fi Friendly Mode, you don't need to worry about Bluetooth interfering with your Wi-Fi connections.
A corded adapter is available to connect to select Zebra mobile devices to eliminate the need for batteries or battery management.
Maximize comfort for every user with five interchangeable wearing accessory options that can be swapped at any time to maximize user comfort.