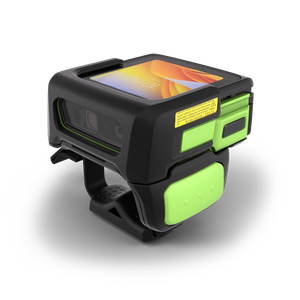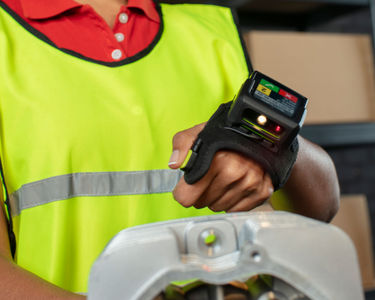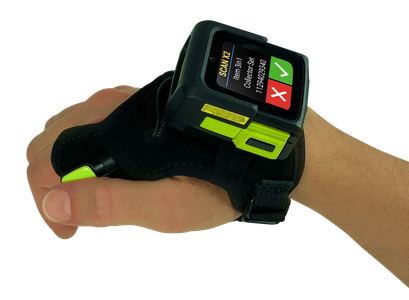 The world's smallest all-in-one Android enterprise-class wearable mobile terminal. It's rugged, modular and accessible to all— from manufacturing and warehousing to retail and hospitality. The WS50 wearable terminal is a versatile computing core with a modular design that lets the worker choose the mount that's right for the job: wrist, back of hand or two-finger. It's small but rugged, packed with powerful business class voice and data capture features that drive productivity and accuracy into every task.
Connect your workforce with push-to-talk (PTT) and task management applications
All models are PTT ready, enabling managers and workers to instantly collaborate for faster issue resolution and increased staff productivity. Discover PTT .
True 'no-host' one-piece wearable
With the all-in-one WS50, workers only need to wear one device to capture and access data instead of a host mobile computer and ring scanner, providing a true converged wearable solution. And push-to-talk (PTT) support eliminates the need for separate voice devices.
High-resolution camera for light barcode scanning and photo capture
A 13 MP camera in the wrist-mounted model supports occasional barcode scanning and can capture detailed photos to document proof of condition and more.
Advanced enterprise-class scanner for intense barcode scanning
The converged two-finger-and back-of-hand mount WS50 models include a powerful imager, delivering superior data capture performance. Scan virtually any barcode in any condition, as fast as you can press the trigger
Integrated audio features
Give users the power of instant voice communications with the embedded speaker and microphone. You can also Wirelessly connect a Bluetooth headset.
Advanced touchscreen display
The two-inch AMOLED color display offers exceptional performance. It is extraordinarily bright — no backlight is required. Better contrast and better viewing angles deliver superior readability.
The power of Android
This industry-grade mobile operating system provides a future proof platform designed to easily accommodate new features.
All the wireless connections you need
Wi-Fi, Bluetooth and NFC are all standard in the WS50, enabling robust Wi-Fi 'won't fail' connections and easy one-tap connections to Bluetooth peripherals.
Full-shift perpetual power
With removable, hot-swappable batteries, devices can remain in service every minute of every shift. An 800mAh battery powers the wrist mount model, while a 1300mAh battery powers the ring-style and back-of-hand models.